Guarantor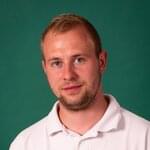 Petr Chvojka
Vedoucí Hobby sortimentu a zájmové chovy, Celá ČR
The Hobby range by MIKROP ČEBÍN a.s. includes products, raw materials and merchandise in four main areas:
Backyard poultry, rabbits, pigeons, cattle, sheep, goats, pigs and pets.
Horses of all types and ages
Sports fishing
Game
The product portfolio for backyard livestock includes the premium Mikros mineral and vitamin supplements packed either in boxes or in printed foil packages, protein concentrates, complementary feeds, flavoured grits for pigeons, milk replacers for lambs and pets, liquid mineral supplements and mineral licks. The comprehensive portfolio of horse feeds includes 14 types of complementary pelleted feed, mineral and vitamin feeds and special nutrition supplements. Our specialists provide nutritional consultancy for race horse stables, show jumping and equestrian vaulting teams and for the breeders of Noriker and Muran horses in Slovakia. In addition to standard catalogue feeds, we provide customized formulations to meet special requirements of horse owners practicing different types of equestrian sport.
Our portfolio for sport fishermen includes blends of baits and boilies, boilies, base mixes of various flavours, and protein pellets for carp fishing with four different flavours.
The last and no less important part of the Hobby program is the range of products for game. We produce pelleted feeds and protein concentrates, mineral and vitamin feeds, licks and instant licks for roe deer, fallow deer, mouflon and buck deer both at large and in deer parks and farms. The game product range also includes compound feeds and vitamin concentrates custom-made for the owners of park and game farms, meeting increased nutrient requirements of trophy animals and farm game. We also produce complementary feeds for pheasants and hares, and two medicated feeds for deworming cloven-hoofed game.